UNI MIDI Breath Controller

Universal Breath Controller with both USB-MIDI and traditional MIDI DIN interfaces. Delivered with flexible headset including BC3-style mouthpiece. Configuration Utility and documentation available for download on the Support page. See also the Frequently Asked Questions page.
Price: 169.99 EUR (ex VAT) &nbsp [Temporarily out of stock]
Following the success of our USB MIDI Breath Controller many of our customers have asked us to develop a version with a standard MIDI interface with DIN connector. We are pleased to be able to offer the new UNI MIDI Breath Controller, with exactly the same functions as the original model and the addition of a DIN plug that can be connected directly into any synthesizer's MIDI IN port.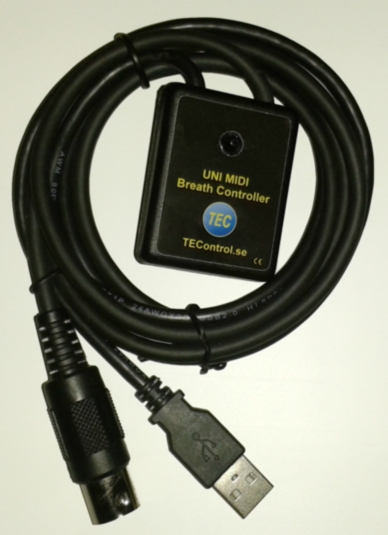 Since it transmits the same MIDI messages on both the USB MIDI and the MIDI DIN outputs, the UNI MIDI Breath Controller can be used with a computer, a synth/keyboard or both at the same time.
The UNI MIDI Breath Controller uses our proven signal processing algorithm to convert the breath pressure signal to MIDI messages (CC, Pitch bend or Aftertouch) that let you add realistic expression to your performance.  This is extremely useful for live performance with synthesizers and DAW's. It gives you excellent control of volume, expression, velocity cross-fade etc… of soft synths and sample libraries.
The UNI MIDI Breath Controller is fully configurable with min/max input and output ranges as well as sensitivity curve. Insensitive to ambient air pressure, it works equally well in Amsterdam and La Paz, with full resolution for all input ranges.
The headset is flexible to allow bending to a comfortable shape and yet springy enough to clamp around the head, and includes a Yamaha BC3-style mouthpiece with adjustable bleed valve that can be rotated away from the mouth when not in use. The headset is now included in the purchase price and is delivered with every breath controller.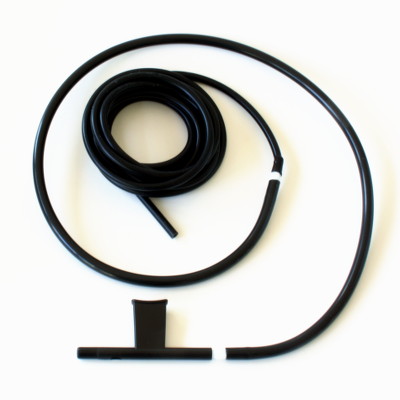 The UNI MIDI Breath Controller comes pre-configured with linear sensitivity and maximum range to send MIDI CC2 messages on MIDI Channel 1. All these can be reconfigured easily using the Configuration Utility available for download on the Support page.
Specifications
Software configurable min/max input and out ranges, sensitivity, MIDI channel and MIDI CC, Pitch bend or Aftertouch
Save and load your presets
Insensitive to ambient pressure
Full resolution for all input ranges (MIDI 0-127)
USB-MIDI class compliant, Plug&Play out of the box on Windows and Mac
Powered by the USB connector - a regular USB charger (not included) can be used for standalone operation with a keyboard/sythesizer
Standard MIDI out port
Configuration Utility available for Windows (XP and later) and Mac OS (10.5 and later)