USB MIDI Breath Controller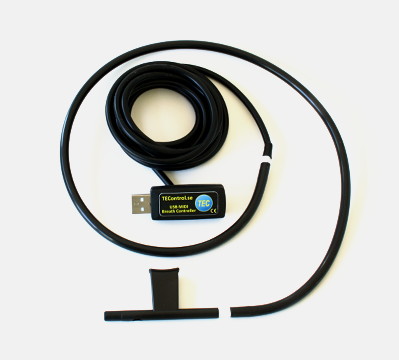 Configurable Breath Controller with USB-MIDI class compliant interface. Delivered with flexible headset including BC3-style mouthpiece. Configuration Utility and documentation available for download on the Support page. See also the Frequently Asked Questions and Testimonials page.

We have received numerous requests from musicians and composers to develop a replacement for Yamaha's breath controller BC3A.

The result is the TEControl USB MIDI Breath Controller, which has the same function as a combination of the BC3A and the "MIDI Solutions" converter box but with a USB-MIDI class compliant interface instead of the older standard DIN connector.

The USB MIDI Breath Controller uses a novel signal processing algorithm to convert the breath pressure signal to MIDI messages (CC, Pitch bend or Aftertouch) that let you add realistic expression to your performance. This is extremely useful for live performance with synthesizers and DAW's. It gives you excellent control of volume, expression, velocity cross-fade etc… of soft synths and sample libraries.

The USB MIDI Breath Controller is fully configurable with min/max input and output ranges as well as sensitivity curve. Insensitive to ambient air pressure, it works equally well in Amsterdam and La Paz with full resolution for all input ranges.

The headset is flexible to allow bending to a comfortable shape and yet springy enough to clamp around the head, and includes a Yamaha BC3-style mouthpiece with adjustable bleed valve that can be rotated away from the mouth when not in use. The headset is now included in the purchase price and is delivered with every breath controller.
Specifications
Software configurable min/max input and out ranges, sensitivity, MIDI channel and MIDI CC, Pitch bend or Aftertouch
Save and load your presets
Insensitive to ambient pressure
Full resolution for all input ranges (MIDI 0-127)
USB-MIDI class compliant, Plug&Play out of the box on Windows and Mac
USB powered
Configuration Utility available for Windows (XP and later) and Mac OS (10.5 and later)
Compatibility
Libraries
We have tested the USB MIDI Breath Controller with the following sample libraries
Players
We have tested the USB MIDI Breath Controller with the following sample players
Synthesizers/Keyboards
The USB MIDI Breath Controller has been tested by our user community with